Wadzanai
An Accidental Artist
Wadzanai wrapped in beaded wedding blanket.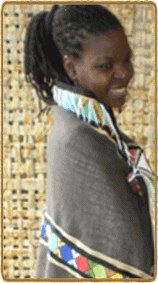 Wadzanai Bello has the Midas touch! Any material she touches from beadwork to fabric to recycled materials is transformed into exquisite handwork. She absorbs instructions like a sponge, mastering techniques and surpassing designers' expectations with her skilled insight.
'The first day she used a sewing machine, she sewed a simple felt stocking. The next day she returned with a bag, expertly sewn up in a morning Any trace of apprehension, question or self-doubt, is masterfully concealed in her calm, friendly, patient demeanor.
However, this is not all that she conceals. Beneath her sparkling smile and stillness, lie deep wounds of her life circumstances.
Growing up in Harare, Zimbabwe was not easy and as the socio-economic climate deteriorated so too did her quality of life.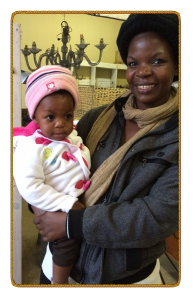 Wadzanai left school when she was 16 while grappling with abandonment by the men in her life. Her father and mother separated leaving her mother to support Wadzanai, her sister and three brothers. Her boyfriend left her when she was pregnant with her first child.
In Zimbabwe, Wadzanai worked as a waitress until 2000, when no food, jobs or money forced her to participate in other initiatives, like traveling to Mozambique to gather supplies to sell back home. At the tender age of 24, she risked her money and her health to buy and transport 50kg of food across borders. On many occasions, police corruption and social desperation could result in stock confiscation, leaving her with nothing for her efforts.
Wadzanai decided to leave Zimbabwe for South Africa in search of better prospects.
She arrived in Cape Town in 2007 and tells of her wonderful connection with Beth, a jewellry designer who took her under her wing. This was Wadzanai's first taste the work of an artist and she thrived on it. Beth gave her comfortable
accommodation in her home and an abundance of creative training and regular beadwork. Although she never imagined that she would become an artist the techniques would just come naturally and she developed a feel for the way things look or the ways that colors worked together.
When Beth decided to move to Johannesburg, her world crumbled and her painful journey began.
Wadzanai's young son Tinashe (meaning "God is with us") was living with her mother in Zimbabwe until tragedy struck as Wadzanai's mother died suddenly and unnecessarily of diabetes in June 2008. The shocking conditions of healthcare in Zimbabwe meant that she was wrongly diagnosed with TB and treated accordingly but to no avail. Wadzanai didn't even have money to go to the funeral.

2010 was an extremely difficult year when at the height of a cold rainy Cape Town winter foreigners came under a Xenophobic attack. (a dislike or fear of foreigners that results in violence directed at the foreigners). Wadzanai was shunted from one residence to another, finding no peace. She initially stayed in an overcrowded dormitory room in Maitland, sometimes sharing with 30 people and even sleeping head to toe.
Next, she moved to Khayelitsha only to have most of her possessions stolen during the "xenophobic" riots  Then she moved back to Maitland until the police closed it down forcing her back to the townships. She was constantly harassed by people making demands on her.
Whilst living in a tiny room in the township her son then came to live with her and her fifteen-year-old sister also took refuge with her. These were massive responsibilities for a 28-year-old woman!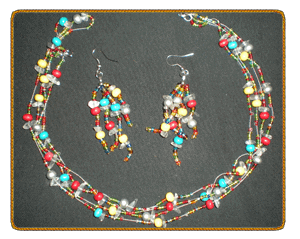 Pleasant Surprises
Nevertheless, in 2008, she arrived at our African Home offices to present some of her jewellery and ended up joining our Creative Team by quietly and unassumingly, picking up a paintbrush to assist in an urgent order, thus firmly establishing herself into our hearts. Wadzanai's eagerness to work in-house means that she is always willing to experiment with new exciting products from Christmas angels, pixie boots and brooches to recycled bead and can curtains or milk carton bags. She is truly a gem in our crafter community chest.
Wadzanai is also a very good administrator and has soaked up office skills and manages our quality control as well as handles most of the packaging requirements for orders.
Most recently, Wadzanai has been enjoying happier times.
She gave birth to a delightful daughter just over two and a half years ago. Baby Zoe is the light of her life and has also captured the hearts of all who have met her.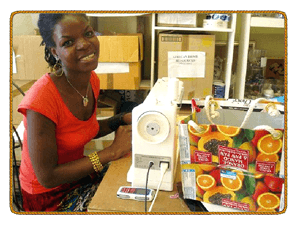 The bonds she has made with us at African Home have ensured that we take a special interest in her well being, doing all we can to celebrate her talent and dedication. We have been instrumental in finding her a new home, far safer, more comfortable and convenient than her previous dwellings. We helped Tinashe find placement in a good school and we have placed Zoe in a crèche across the road from African Home. Wadzanai has come into her own as a multi-talented craftswoman and we enjoy seeing orders come her way. After many months of product development and co-creation; the demand for Wadzanai's fabulous creations continues to grow.