Star
Wishing Upon her Own Star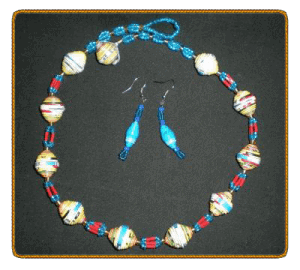 Star Nsingo has a sparkle in her eyes, and a flicker of hope despite all that she has endured. This is her remarkable story…
Five years ago, Star's life looked very different from what it is now. Today she lives in a small room in an informal settlement in Hout Bay, a suburban area of Cape Town. She does all that she can to put food on the table and support her children and their families. Her charming jewellery made from recycled paper and cardboard packaging is just one example of her ingenuity. She also taught herself homemade soap making, tailoring, and knitting to name but a few of her skills.
Nevertheless, times are hard and she reminisces of how her life used to be.
Her own Personal Tsunami
Until December 2006, Star lived with her husband and three children in their ideal family home in Zimbabwe. They had a seven-room home that they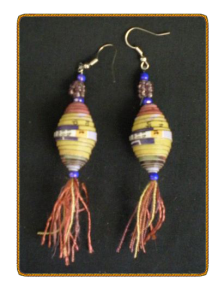 built on land that was allocated to them. While Star had trained as a professional bookbinder, she was also an expert in food gardening. The family enjoyed their maize and vegetable crops, sustaining themselves and selling their produce.
Then 8 December 2006, the same month as the international Tsunami tragedy, Zimbabwe's morally corrupt government officials literally destroyed the foundations of her life. Through bureaucratic manipulation, they occupied her land and demolished her home. Less than a year later her husband died. Star attributes his death to his post-eviction exposure to rains and poor conditions. However, she also suggests that the trauma of their experience is what really broke his spirit.
To add insult to injury, she was cheated out of her husband's life insurance money and felt she had no choice but to flee her homeland seeking refuge with a friend in South Africa.
Star's endurance is astounding. She has experienced so much hardship and injustice, yet her smile and spirit are filled with grace. She is proud of her craft and modestly explains how she learned from simply observing others and experimenting with her own
Her face lights up with hope and delight when she talks of her skills and her dreams.
She longs to be growing her own food again in her own home. She complains that it's impossible to develop such food production in her current meager accommodation as "the dogs eat everything if you want to garden". She is also realistic about the struggles of the fair trade craft world. She knows that she cannot compete with the mass produced cheap imported jewellery and clothing but tries to remain positive that there is a socially conscious market out there to support her enterprises.
We hope that through African Home, she will meet this clientele. We trust that she will discover people who celebrate her talent and her amazing strength; customers who can appreciate that when they wear a piece of her jewellery, they tell her story and bring her one step closer to that wish upon her star.