Malvern
Malvern was born in 1971 in Harare, Zimbabwe, as the 4th of 5 sons he enjoyed a happy early childhood. However his family fortune changed dramatically and by the time he turned 14, his father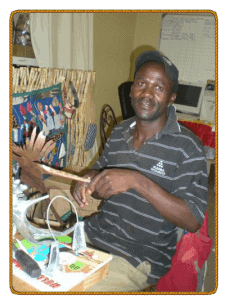 had died and his mother had lost her job leaving Malvern to step up to take the family burden onto his young shoulders.
"Going to school was difficult. I had to school myself by selling vegetables and trying to do everything to survive." Of the 5 sons, Malvern was the one to shoulder most of the support for his family. His oldest brother had his hands' full providing for his own family, the second born was in college, the third had died from a sickness and the youngest was his dependent.
It was then that Malvern began his career in craft, sculpting wire motorbikes and helicopters to sell to tourists and across the border in South Africa. "All the money I got, I used to look after my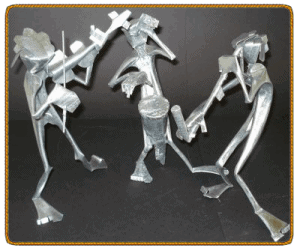 family," he explains nobly.
He then moved to South Africa in the hope of improving his income. Times were extremely difficult for Malvern as he was settling in Cape Town. Initially, the odd jobs he obtained were exploitative of his desperation and hazardous to his health. Back home, his mother suffered a stroke and broke her leg. His wife and young sons were in Zimbabwe and he struggled to send them and his mother money.
However, since joining African Home in 2009, Malvern has been able to bring his wife Deliwe and two sons aged 6 and 10 to live with him in Cape Town. Malvern is a special man with simple dreams."I'm not after big things. The most that I want is to live a normal life and give my family food. "
Malvern also dreamed of becoming a musician in a band. Unfortunately, a lack of funding meant that this dream was never realized however its expression has found form in some of his sculptures. The bottle cap musicians created for "Ten Thousand Villages" represent this aspiration.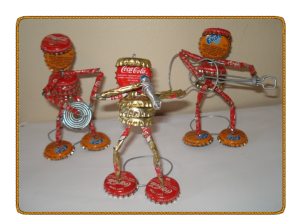 We appreciate Malvern's humble but dependable nature, special creative ingenuity and versatile skills, making him a treasured member of our African Home team. His diverse talents enable him to sculpt magnificent metal musicians and other human forms out of a range of materials including bottle caps, wire, beadwork, recycled tin cans, and recycled plastic.
We are inspired by his hard and serious work ethic. He is driven by his sense of family responsibility and a determination to transcend his plight. As he explains, " I'm very serious about my job. I like my job. If I have the opportunity to get a plot in Zimbabwe, it's my greatest dream to build my own home and to get to pay it off."
It is our mission to have Malvern actualize his dreams.

---