Isaac
Chickens Crossing the Road to Success
The Eastern Cape is colored with a Xhosa communities' way of life. While Cape Town boasts a large population of Xhosa speaking city dwellers, Eastern Cape has been the traditional home base and heritage heart space for many.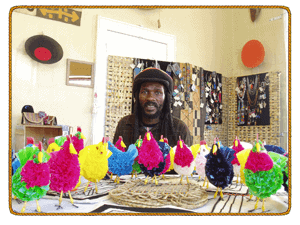 Even the more developed urban areas like Queenstown have modern malls juxtaposed with informal markets. In its dusty streets, a local resident might be seen carrying an ATM bank card in one hand and a chicken in the other. This is the setting for Isaac Henry Mawethu's story, his carload of 'rainbow chickens' are in fact his ticket to the bank, though in these times they are not going to the slaughter. They are bound for all sorts of destinations from Italy to Sweden…
A Rastafarian family man
Isaac stands tall with dreadlocks falling around his shoulders. His shy smile appears behind a field of festive fowl. He tells of his fond memories growing up with his 'gogo' (maternal grandmother) and two brothers in Queenstown. As was often the case in the difficult Apartheid climate, his mother spent much time working in Johannesburg, far away from her home base. The topic of his father is a source of pain for Isaac and a source of anger for his mother. He never knew his father and even though he subsequently found out further information on his whereabouts, Isaac claims little desire to acknowledge him.
Conversely, Isaac describes himself as a religious family man. He is a devout Rastafarian who is one of the earliest members of his spiritual community which was established in 1990. His strong identity serves him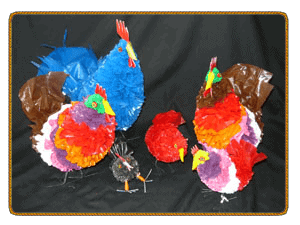 but also subjects him to discrimination.
He says sadly: 'People look at you. They assume you have no money. There is always prejudice on the taxis as people think you are on drugs. The police always harass you, calling you a drug dealer for dagga'.
Isaac's consciously demarcated Rastafarian 'village' called Marcus Garvey is situated in the Phillipi township area. He claims it is at least 100 members strong and constantly growing. Initially, his community stayed in Browns Farm near Nyanga in the 1980s. However, there was a conflict of interests when ANC struggle activists living amidst them, undermined their anti-war ideals and eventually forced them out of their establishment.
Forced uprooting was nothing new to Isaac who had spent much of his early teens and adulthood nomadically navigating in deeply difficult political times. He left school in 1982, at 14 years partly due to financial reasons and partly because of the dangers of schooling when education boycotters threatened those who persisted to study.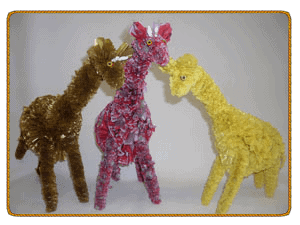 He moved to Cape Town with intentions of supporting his family financially despite his underage status. For 7 years, Isaac worked as a street vendor for The Cape Times. Payment was stable but icy early mornings and rainy days were major occupational health hazards. Then in 1991, a terrible car accident left him incapacitated with a broken arm and crippled him financially.
Six years of financial struggle followed but within this time were also hidden blessings and seeds of a new self-empowered lifestyle. After his accident, Isaac took refuge with his mother in Johannesburg which he describes as a time when he really had a chance to get to know her. It was there that he was first exposed to his type of craft. Paper flowers made by a man from Ghana were the starting point for his experimentation. He had previously tried crafting with wire but his pained arm forced him to consider less strenuous craft techniques with different materials. Instead of paper, Isaac discovered recycled plastic as an abundant resource and chickens as colorful, quirky subjects.
His mother invested R1000 in his craft initiative and he has not looked back since. More plastic animals from giraffe to zebras have joined Isaac's 'plastic safari' but chickens remain his bread and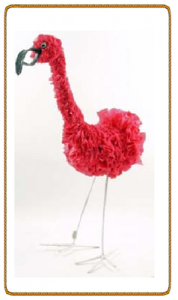 butter.
Plastic, Problems, and Patience
Isaac sheds light on the changing craft climate in South Africa. Sadly, as recycled resources become sought after materials, prices increase. Initially, he used to get free offcuts otherwise discarded by recycling companies. However, now the Western Cape plastic industry is not so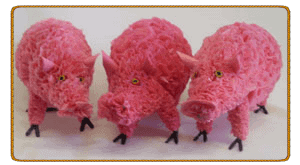 obliging. There is more demand as his product has become popular and other crafters have copied it, competing with him in the cut-throat industry. In many cases, these crafters were his trainees whom he had empowered to assist him. They used to work together producing 500 top quality chickens a week. Now greed has divided his team and left him disillusioned encouraging him to dream further afield…
Future Prospects: From Chickens to Cows
Isaac talks of the Eastern Cape with great affection. He is grateful for the impact that his plastic chickens have had on his life as he is able to reinvest in his traditional values. Buying Nguni cattle in the Eastern Cape is his long term investment towards returning to a more rural lifestyle. He also hopes to expand his business to the Eastern Cape, interacting with new plastic companies and empowering more people in dire need of skills and work. Isaac has been one of African Home's longest associated crafters. He assures us that our connections shall endure beyond any social changes. Rainbow plastic animals seem to nod in agreement. They brighten up our showroom. They peer out of the window inviting onlookers chuckling as they consider: Why did the customer cross the road? To get to the chicken of course!
---