Victor
Victor's Story
Victor Chiteura is proud to be called Zvakanaka, a term of endearment bestowed upon him by his crafter team.
Zvakanaka, means 'maker of nice stuff', a modest assessment of one whose reliability and attention to detail and quality places him ahead of his competition in the wireworks craft sector.
Victor is aware that in the craft industry as in all artistic endeavours, one needs to be innovative and efficient when designing a product.
No matter how big or small the order, he treats it with care, recognising that the smallest sample might lead to the biggest order.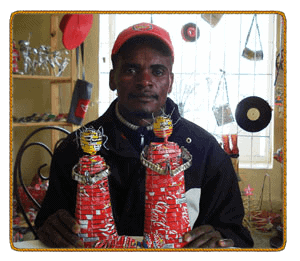 He understands the great empowering potential of such orders and that through them, families can be supported and lives can change. He appreciates this concept, in light of his own personal journey and his struggles towards self preservation during times of immense hardship.
Victor was born in Zimbabwe in 1968. His was one of four children living in a family of abject poverty. His father died when he was ten, leaving his mother to fend for them in their rural home.
Victor left school in Grade 8 in order to find and provide financial support for his family. He moved to the city when he was 16, selling cigarettes and constantly job hunting despite scarce resources eventually reaching his lowest point in his early twenties. He lived alone on the streets for two years, selling vegetables to survive.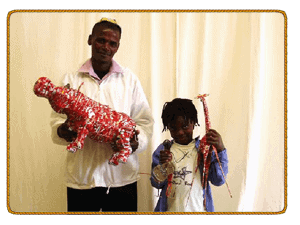 Today, he feels blessed by his wife Precious, their 10 year old son Loyiso , 4 year old Blessing and an abundance of friends and "cousin-brothers".
It was during his period of extreme poverty in 1990, that Victor began to teach himself craft. He set himself a goal and in 1993, after his mother's death, he managed to save money to buy a Zimbabwean passport, craft materials and pay for his travel costs to South Africa.
He lived in Durban before settling in Port Elizabeth (PE)in 1995 where he met Precious. Victor remembers these years as fruitful. He would spend two to three months in Zimbabwe producing enough stock of wire motorbikes to take with him back to PE, where he would sell all his stock within less than a month.
However, misfortune struck when Victor first experienced the effects of Xenophobia. At one in the morning Victor fled his home with only the clothes he was wearing and minimal possessions after being robbed and threatened by certain jealous individuals.
In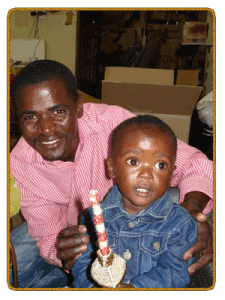 2004, Victor arrived in Cape Town and lived in Long Street where he worked for a pittance in the craft industry. Upon leaving this craft co-operative, Victor struggled to gain access to the right trade markets as his diligence and expertise made him a threat to his former employers in a highly competitive industry.
In 2007, Victor came to us for the first time and started working on various orders. Victor's collaboration with African Home has opened up a world of opportunity for him. He has come to recognise his rights as a crafter and the values of fair trade that contrast with previous models of exploitation. His dedication to our initiatives, rewards us with his high quality and reliability and him with wholesale orders and professional skills development.
"Attention to detail and quality places him ahead of the competition"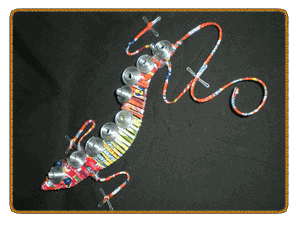 Victor's first order from African Home was his beaded frogs and fridge magnets. He was able to deliver this order a week earlier than expected. This is an impressive achievement in an industry where crafters sometimes work through the night to meet stressful deadlines. (Victor has known many of these!) Victor 's talent has meant that he has become one of the main crafters supplying our major US customer " Ten Thousand Villages". He is delighted by the support of this well established organization,
and the opportunity to be working consistently on their large orders. Since joining African Home in 2007, Victor has had a relatively constant flow of work and has bought a car and moved into a better house, with our assistance. This has made a great difference to his work productivity and expedience.
Victors' taste of success did not guarantee plain sailing for him and his community. The Xenophobic attacks of 2009 throughout South Africa was yet another low point for him and his n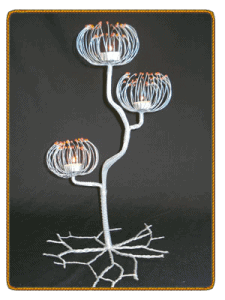 ow established team. Once again his home was invaded and vandalised and this time, his materials stolen and a large part of his finished crafts destroyed. Almost concurrently, he also endured various family bereavements as well as the unforeseen expenses that followed.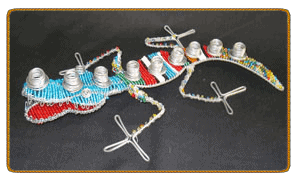 He was quite overwhelmed however by the generosity of a donation by Ten Thousand Villages ,who took to heart his plight and helped him get back on his feet. On another occasion , Victor fell extremely ill. With African Home's support, he was able to get the best health care possible and we are delighted to note he is now in peak health . Despite the low ebbs in his life, Victor perseveres with his projects with the reassurance that he has an ever expanding support system holding him firmly in his endeavours.  He is a cherished member of African Home.