"Re-creations": a new movement in creative consciousness. An indigenous innovation has sprouted from South African soil.
It combines social awareness with environmental sensitivity proposing to empower disadvantaged communities and encourage environmental conservation. Materials that most consider as worthless waste, we embrace as endless creative potential. These include tin can from cold drinks, tin can ends (openers), plastic bottles, recycled plastic, juice cartons, beaten metal, bottle crowns, and recycled labels.
Tin can products are cut into strips and wound around wire structures to make human figures and animals. They are rolled tightly to create elegant jewellery, belts, and pens or stitched with vinyl to make bags, boxes and hats. Recycled plastic animals have become a local craze celebrating "Rainbow chickens for a Rainbow nation"
Food and wine labels make beautiful bowls and brochure holders. Bottle crowns become baskets, tin can ends are sewn into bags, purses, and vases as are juice and milk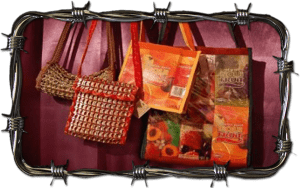 cartons.
On a small scale, gathering these recycled materials from the local environment helps combat pollution. However, at African Home, we provide crafters with larger scale sales opportunities. In so doing we raise environmental awareness amongst restaurants, catering companies, canning factories, and schools, imploring them to supply us with their unwanted waste.
Many of these products grew out of crafters needs to access cost-effective materials. People living in impoverished conditions show ingenious ingenuity and innovative creativity. Since resources are scarce and competition for employment is high, they have little choice but to embrace what is freely found in their environments, transforming them into colourful products such as animals, dancing people, bags, boxes, and décor.
These crafts embody South Africa's greater aspirations towards a spirit of social transformation.